Welcome to the Omnimaga download section!
In here you will find all games and utilities made by Omnimaga staff for both TI calculators and Windows as well as our own music and video game music arrangements and even calculator videos. In addition to that, there is a section where regular forum members who have 40 posts or higher can freely upload their own TI calculator games and utilities, which will quickly be approved by Omnimaga staff and managers afterward. Finally, there is an older section where you can find some of the best old calculator RPGs (including Casio/HP), although that section is now in read-only mode.



Here are the rules and instructions to upload your own files:
-You must have at least 40 posts.
-You must upload your file in a ZIP archive! Use 7-Zip, WinRAR or Winzip to compress your files.
-Alternatively, you can link to the file info page on www.ticalc.org, www.cemetech.net or www.tiplanet.org if it is also available there, but no other sites are allowed right now. We recommend that you upload your file directly, if you are gonna regularly update it, as it might make it easier on the user's end.
-Your file must be under 7 MB in size.
-Adult content or very offensive material such as racial slur or defamatory content is not allowed. Swearing and jokes are ok, though.
-Your file must NOT contain any illegal material such as ROMs or copyrighted mp3s.
-Math/science/school-related utilities are not allowed and we reserve the right to put a quota on the amount of games/utilities of a certain kind we allow in our archives (eg: number guessing games). This is to control the quality of our archives.
-Screenshots are optional, but are recommended. We recommend using img[DOT]removedfromgame[DOT]org to host them. Forum BBCode might be used to link to them.
-Instructions on how to use the game or utility are recommended, either in readme, screenshot or description form. We will not accept the file if we cannot figure out how to run it.



MAKE SURE TO UPLOAD YOUR FILE IN THE RIGHT DIRECTORY!!! Regular member files goes under the

User-Contributed TI Calculator Games & Development Tools

category

and must be placed in the right sub-directory

(eg: Navigate to

TI-83 Plus, 84 Plus & Silver Edition

then

83+/84+ Games (Action/Arcade/Shooter)

). When in the right directory, click the "Add Download" link at the bottom of the page.

If you upload your file in the wrong section, it will be rejected.

If you are unsure where a game in particular needs to be located, feel free to post a question in the Feedback section of the Omnimaga forums.

Once you have uploaded your game or utility, it will be placed into the pending queue and reviewed by an administrator as soon as possible. Afterward, your file will not only appear in our downloads section, but a new topic will automatically be created on the forums, linking to the file info page, where forum users can discuss or comment on your file.

After you reach 1000 posts, your files are automatically approved.


Have fun browsing and we hope you enjoy what you find there. If you are a programmer, we hope you find what you need there and if you don't, feel free to search and ask on the forums!
Illusiat 81
illusiat8182.zip
Filesize: 5.78kB Views: (448) Downloads (37)
Previous Download | Next Download
Description: This is a version of the game that introduced the Illusiat series, adapted for the TI-81. The

goal was to attempt at fitting the original 2001 version on the TI-81 from 1990 that got

discontinued in 1997 to see if it would fit in its limited 2400 bytes of RAM. It has been ported

to newer calculator models for those who don't own a TI-81 but still want to see how it looks

like.

Since 2001 there have been 3 versions of Illusiat released, including this one. The first one was

my first released RPG ever. The second one was an enhanced remake utilizing Illusiat 12 walking,

battle and menu engine as well as some ASM libraries from The Reign Of Legends 2. It came out in

2003 in a bundle called Illusiat 2004, containing remakes of the 4 first Illusiat RPGs in the

series, with bigger and more complex maps, improved storyline, added level-up system for the two

first games, which didn't used to have one, new magic spells and a lot of major changes.

This new version of Illusiat is based on the very first version ever but this time for the first

TI graphing calculator ever released. Maps are similar to the first game and the graphics aren't

as good but there have been some improvements in some areas, most being inspired from the 2003

remake included with Illusiat 2004. This is also the hardest version of all.

Because this version of Illusiat was designed for the TI-81 calculator, it had to be split into

multiple files to save as much space as possible, taking all 37 sub-programs slots avaliable.

However, the TI-73, 82, 83, 83+ and 84+ (including both Silver Edition models) port was merged

into 8 sub-programs, taking a little more space, but making it easier to browse the PRGM menu,

since on these models you can fit much more data. Because TI's first calculator ran at 2 MHz,

some adjusting had to be made to emulate the original speed as much as possible for animations,

but it is not perfect and you may notice some minor slow downs during non-animated parts of the

game, due to the merging of several program routines together. Don't worry though, it should

still give you an idea about how Illusiat looks like on a TI-81 calculator.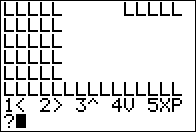 ---
Posted by: DJ Omnimaga 30 December, 2008, 03:56:03
Author: DJ Omnimaga


Linking Codes

| | |
| --- | --- |
| Direct Link | |
| Show Html Link Code | |
0 Members and 1 Guest are viewing this files.