With the discovery of the TI-Nspire 3.6 softwares in a
previous news
, we noticed that there were some connectivity changes.
We are therefore not suprised to discover today a new 3.6 version of the TI-Nspire Computer Link !


Compared with TI-Nspire softwares, the TI-Nspire Computer Link has the advantage not to include any emulation or simulation of the calculator, which allows it to start much faster, which makes transfers much more intuitive (no need to look for such things in an obscure hidden part of the interface) and which requires no license number.
Apparently , version 3.6 looks identical to the previous version 3.2.
Following our previous experiences, it seems that the installation is only necessary if you need to transfer data with a wireless TI-Nspire running OS 3.6.
But if you install it, you lose the possibility of transferring data with wireless TI-Nspire running earlier OSes 3.1 and 3.2.
To our knowledge it is now impossible to keep wireless connectivity with all TI-Nspire OSes from the same software anymore.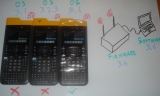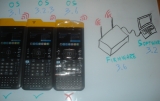 As far as we know, the choice to install it or not has no consequence on wired USB connectivity. You can go on using any OS in that case.

Source

: http://tiplanet.org/forum/viewtopic.php?f=43&t=13528&lang=en

Downloads

: