1
« on: June 05, 2015, 09:30:31 am »
You may have heard about it already, but if you haven't… this is the official first release of Firebird Emu, a new TI-Nspire emulator!
The core of Firebird is based on Goplat's renowned "nspire_emu", but with quite some changes.
Major changes:
Supported platforms: Linux, Mac OS X (10.7+), Windows, Android (ARM and x86), iOS (without JIT, except if running on a jailbroken device)
Flexible GUI with many user-friendly additions
Supports nspire-linux
Also, GDB support for debugging of ndless apps has been improved and nspire-linux boots successfully, like in the second screenshot.
So, if you want to debug your Ndless programs, test Lua scripts or just use the calculator, this is the right emulator for you.
Please note that like nspire_emu, you need to provide a Boot1 file, which you can obtain from your own device easily with
PolyDumper
. Of course you can still use the flash files from nspire_emu.
Download:
Prebuilt packages for Android (armv7), Linux/X11 (64-bit), Mac OS and Windows are on GitHub:
https://github.com/nspire-emus/nspire_emu/releases
Screenshots:
Running on Mac OS X, in English, custom dock arrangement
On Linux, in German
On Windows, in French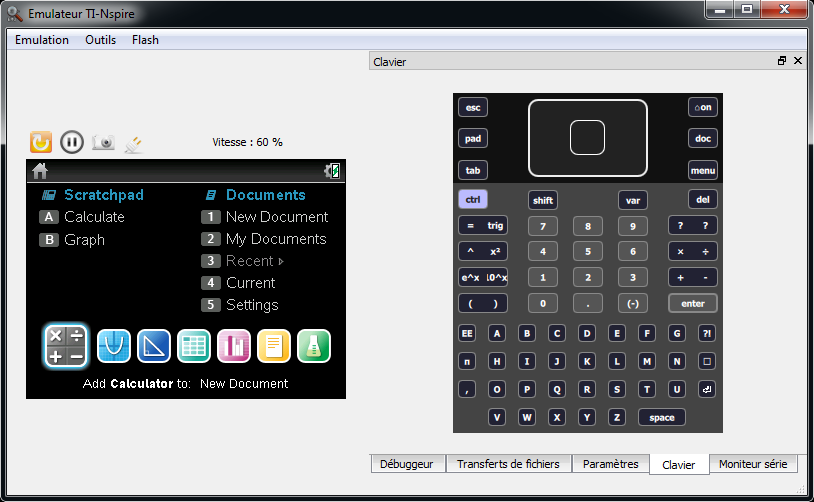 On Android
and a video:
On an iPhone, although not really useful right now, probably better on an iPad
Contributors to the project:
Fabian "Vogtinator" Vogt: UI design, work on emu core, German translation
Antonio Vazquez: code cleanups, linux support work, archlinux packaging
Adrien "Adriweb" Bertrand: mostly testing (especially Mac and iOS), French translation
Lionel Debroux: some x64-related cleanups
You?
This post is also on tiplanet:
http://tiplanet.org/forum/viewtopic.php?t=16652&p=183653#p183653
and codewalr.us:
http://codewalr.us/index.php?topic=520