76
« on: August 08, 2013, 08:34:25 pm »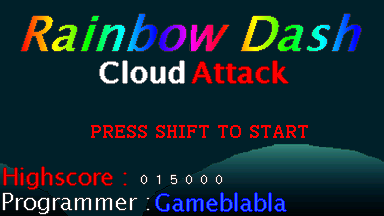 Hi !
I did a port of
my own Ti-nspire game Rainbow Dash Cloud Attack
for Casio PRIZM.
I know , there is already a similar game called
Rainbow Dash Attack
made by Ashbad.
But his game overclocks the calc and nobody likes to overclock their calcs so i have decided to port my own game.
You play as Rainbow Dash and you must grab the white clouds and kick the storm clouds !
Each white cloud you grabbed is worth 100pts. Kick a storm cloud is worth 200pts.
I don't own a PRIZM so i had to use the emulator , which sucks. (you can't press more than one key , no direct access to the keys etc...)
So it might plays better or worse on an actual calc. Anyway , i hope you'll still enjoy it !
Download :
Version 1.2
Credits :
I had to use a lot of rountines which are not mine.
So i would to thank KermMartian , Ashbad and PierrotLL for their routines & source code !
*urimas
did Rainbow Dash's sprites.
Screenshots :